When it comes to cosmetic treatments, what is the secret to outstanding results? Knowing who to trust. Dr. Jill Hazen is a medical professional and an expert who will recommend the best treatment for your specific needs after meeting with you and understanding your personal goals.
Unrivaled Comfort
You can have all your cosmetic needs met at our Princeton, NJ medical spa. Our aestheticians are medically trained to provide quality skincare treatments in a relaxed setting. We also offer complimentary consultations from our aestheticians. No matter what procedure you're seeking or what your areas of concern may be, we are committed to achieving the highest quality results, with a high degree of importance on integrity.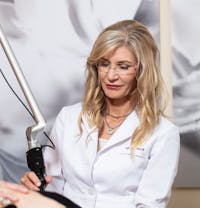 Determining the right treatment for you 
There are many cosmetic treatments to choose from these days, and because we offer so much, it can sometimes be overwhelming. Dr. Hazen has been in practice for 25 years and performing aesthetic procedures for a decade.
After meeting with you, she will know the ideal treatment to achieve optimal results for your needs. Not only will she determine the best recommendations for you; she will also design a treatment plan just for you to get the results you want.
Always progressing
Dr. Hazen believes that you can always continue to learn new techniques and technologies. A self-proclaimed "device junkie", she constantly researches and stays on the cutting edge of what the industry has to offer. Although she keeps up to date on new methods, Dr. Hazen and her staff do their due diligence to determine which new treatments actually work and get great results, and which ones are just a trend. Just because something is new and exciting doesn't always mean that it's the best treatment, and Dr. Hazen is always very careful in which procedures she chooses to perform.
Best of both worlds
Although plastic surgery and medical spa services are often offered separately, Dr. Hazen brings the two worlds together beautifully. With a background in reconstructive surgery, she has the skills and artistry to perform any aesthetic service you may require, from head to toe. This offers an enhanced level of convenience for her patients. Not only does Dr. Hazen have a physical medical spa location; she also has an AAAASF certified location where she is able to do IV sedation if needed. This enables her to perform procedures both in-office and at a hospital.