By employing a series of gold-plated needles to create micro punctures in the skin, the AquaGold system makes it possible for the body to better receive vital, youth-enhancing serums, medications, dermal fillers, vitamins, and nutrients. Multiple areas of the skin can be treated with AquaGold, affecting widespread improvements in the skin's vibrancy, resilience, and hydration. Safe, non-invasive, and non-surgical, AquaGold is quickly becoming a staple in the anti-aging arsenal of medspas everywhere.
What is AquaGold?
Like microneedling, AquaGold creates tiny wounds in the skin, stimulating collagen and elastin production. It then delivers beauty-promoting agents directly into the pores, which results in immediate and long-lasting changes. Because AquaGold only punctures the skin's uppermost surface layer, the treatment can be beneficial in areas that laser therapy or deep chemical peels cannot treat.
AquaGold can be used to treat:
Face
Neck
Chest
Arms
Hands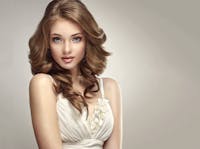 What are the benefits of AquaGold?
Helps to shrink enlarged pores
Smooths, firms and tightens the skin
Help reduce acne scarring
Combats discoloration
Can accomplish multiple skincare goals simultaneously
Amplifies the benefit of skin serums
Safe, non-invasive, and effective
High rate of patient satisfaction
Treatment can be customized to each client's express wishes
Minimal downtime and discomfort
What happens after my treatment?
AquaGold's needles are as fine as human hairs, so the procedure is virtually painless. The worst side effect is redness akin to a mild sunburn lasting around 24 hours. Other than this, you will be able to quickly return to your normal activities, knowing that glowing, radiant skin is now a reality for you.
Why choose Hazen Plastic Surgery?
All non-surgical treatments, including AquaGold, are overseen by Dr. Jill Hazen, a board-certified plastic and reconstructive surgeon. As a member of the American Academy of Cosmetic Surgery and the American Society for Laser Medicine and Surgery, Dr. Hazen has garnered a reputation for elegant, nuanced results. She creates a foundation of integrity and trust with every client, which she believes is the bedrock of a successful outcome. Dr. Hazen was awarded the Patient's Choice Award for 2010 and was honored as Woman of the Year in 2009. Her artistry, compassion, and intrepid skill continue to draw clients from all over the country and the world.
Hazen Plastic Surgery is a cutting-edge, state-of-the-art facility and is home to among the most advanced technological equipment in the industry. We are excited to offer treatment with AquaGold as part of our continuing commitment to remaining ahead of the curve when it comes to groundbreaking innovations in cosmetic science.