Liposuction in Princeton, New Jersey
Many individuals struggle with excess fat in problem areas such as the abdomen, arms, hips, thighs, and buttocks that accumulates over the years. This fat can be incredibly difficult to lose — even with healthy eating and regular exercise. For those who are putting in the work but aren't seeing their desired results, it can be disheartening to feel like you're getting nowhere. This is why Dr. Hazen offers liposuction.
What is liposuction?
Liposuction provides effective, long-lasting fat reduction and body contouring results. The fat is removed and the body is sculpted to achieve a natural-looking, slimmer silhouette. In the weeks and months following liposuction treatment, you will finally get the results that couldn't be delivered with diet and exercise alone.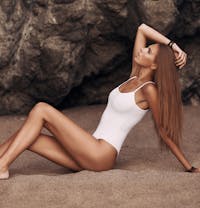 Most commonly treated areas
with liposuction
Arms
Male breasts
Abdomen
Back
Hips
Waist
Love Handles
Thighs
Buttocks
Liposuction procedure details
The procedure works by loosening, breaking up, and suctioning accumulated fat out of the body using a thin, hollow tube called a cannula. An incision will be made, and the cannula will be inserted. The cannula will remove the unwanted fat.
Candidates for liposuction
If you're in the Princeton, NJ area and you're interested in a liposuction procedure to get rid of your stubborn excess fat, you may be the perfect candidate. Dr. Jill Hazen is an expert in fat reduction procedures. She will provide you with the guidance you need to determine if liposuction or a combination of treatments will be most effective to meet your specific aesthetic goals. The best candidates for lipo are those who:
Have area(s) of stubborn fat deposits that don't respond to diet and exercise
Are either at or near their goal weight
Are in overall good health
Are non-smokers
Have not had recent surgery in the treatment area
Have realistic expectations for the procedure
Liposuction in Princeton, NJ
at Hazen Plastic Surgery & Medical Spa
Dr. Hazen's artistic visualization and clinical skills allow her to achieve beautiful, natural-looking results for patients seeking cosmetic procedures. As a highly respected, board-certified plastic surgeon in the Princeton, New Jersey area, Dr. Hazen has made a name for herself due to her beautiful, natural-looking results. Dr. Hazen has been in practice for 25 years, with a focus on aesthetics for the last decade. She has been recognized by Healthy Living as one of the Top Doctors in New Jersey, and she has also been featured in the New York Times and New York magazine. Furthermore, Dr. Hazen has won the Patient's Choice Award and Woman of the Year. Her small, family-like staff will make you feel welcome, and her incredible results will make you happy you chose to work with her. Dr. Hazen will determine the right procedure for you, and will personalize a treatment plan just for you. If you're in the Princeton, NJ area and are interested in liposuction, please contact us today to learn more.