Body Contouring
Our practice offers state-of-the-art non-invasive body sculpting procedures to transform the physique. Our treatments provide fat reduction, skin tightening, and overall contouring for a boost in self-confidence. By choosing our non-surgical body contouring options, you are able to avoid the longer downtimes associated with surgical procedures. Additionally, you are able to see marked improvements in cases where dieting and exercise alone have failed.
Every treatment begins with a customized consultation, during which we will assess your areas of concern, review your medical history, and answer all questions in depth. Together, your body contouring specialist will create a unique and comprehensive treatment plan to achieve your aesthetic goals. Our clinical team is highly trained in combination treatments to achieve your ultimate goals. We will tailor your treatment to reflect your comfort levels, lifestyle, and wishes for improvement.
What body contouring services are offered?
What areas can be addressed with non-invasive body contouring?
CoolSculpting Elite can treat:
Abdomen
Male chest
Bra rolls
Upper arms
Inner thighs
Outer thighs
Distal knee
Love handles/flanks
Banana rolls
Submental region
EmSculpt can treat:
Abdomen
Upper arms
Buttocks
Calves
Exilis Ultra can treat:
Face
Neck
Jowls
Abdomen
Arms
Thighs
Thermi250 can treat:
Under-eye region
Area around the mouth
Upper face
Mid to lower face
Neck
Abdomen
Thighs
Buttocks
Vanquish can treat:
Abdomen and flanks
Back and flanks
Arms
Thighs
Who is a candidate for body contouring?
Candidacy will be determined on a case-by-case basis during your personalized, private consultation with our body contouring specialist. We will review realistic expectations and discuss possible combination treatments. Candidates should have the following:
At a stable maintainable weight
Realistic expectations for body contouring results
In good overall health
Free of implanted metal or electronics
Not pregnant or breastfeeding
Understands that multiple sessions are necessary to achieve optimal results
What to expect after body contouring?
Your body contouring specialist will give you guidelines and expectations based on your treatment plan and these will include:
Resuming normal activities with no downtime post-treatment session
Expecting mild soreness and skin redness that can last 12-24 hours
Drinking plenty of water after each session to improve results
Continuing a healthy diet and exercise regimen
Seeing optimal results 3-6 months post treatment series
Maintaining body contouring areas quarterly, unless otherwise specified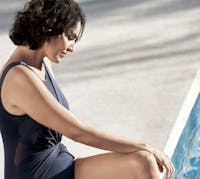 Combining body contouring treatments for best results
During your private consultation, our providers can advise you on the best way to maximize your treatment outcomes by combining two or more treatments at once. Undergoing non-invasive body sculpting treatments in tandem can help increase fat loss, skin tightening, and muscle enhancement. Combination treatments may include the following:
Why choose Hazen Medical Spa for body contouring?
Renee is our experienced Body Contouring Specialist who will perform your non-invasive body sculpting treatments. She is a thoughtful and caring provider who desires the best outcomes possible for patients seeking a solution to excess fat, sagging skin, and loss of muscle tone. Renee listens carefully to your concerns during your private consultation and develops a strategic treatment plan to achieve your unique goals. She will answer your questions in depth, making sure you are well-prepared to embark on your aesthetic journey. Contact us today to learn more about our cutting-edge technology for non-surgical body contouring!
FAQ
How many sessions will I need for body contouring?
Each patient is unique, and so is their treatment plan. A private consultation with our team will yield a personalized treatment plan that can accomplish your objectives in terms of sculpting the physique. Most commonly, patients will need between four to six sessions in order to see the notable changes they desire.
How do you choose the right body contouring treatment?
Our experienced team, led by our caring Nurse Provider, Renee, will assess any concerns during your consultation and help you decide on the best course of action to meet your goals. Oftentimes, multiple sessions using a combination of innovative body sculpting techniques are required to achieve the transformation you envision.
Do you provide financing for body contouring?
Yes! Our office offers multiple options for financing from an array of trusted healthcare lenders who provide reasonable rates, flexible repayment plans, and superior customer service. Speak with us during your consultation to find out more. Don't let lack of funds hold you back from completing your vision for improvement today rather than in the distant future.
What if I'm not a body contouring candidate?
In some cases, non-surgical body contouring options will not be sufficient to treat excess fat and skin on the body. In these cases, Dr. Hazen can discuss your choices for plastic surgery, which may include liposuction, abdominoplasty, and more. During your private consultation, we will go over your goals and ensure that you receive a personalized treatment plan fine-tuned to your unique anatomy, lifestyle, and comfort levels.