Breast Augmentation
in Princeton, New Jersey
Dissatisfaction with breast size or shape can greatly affect a woman's self-confidence and keep her from feeling her most beautiful. Because of this, breast augmentation is one of the most popular plastic surgery procedures available to improve a woman's breast size, shape, and volume. With breast augmentation from Princeton, NJ plastic surgeon Dr. Jill Hazen, patients can get the breast contour they want in a single, safe procedure.
What breast augmentation can do
Enhance the size or shape of the breasts
Correct breasts that are uneven or unbalanced
Add volume to breasts that have lost fullness
Improve the proportion and balance of the body
Increase a patient's sense of femininity and confidence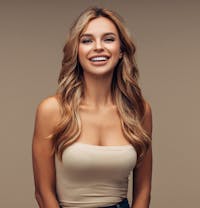 What to expect
in your consultation
Getting the breasts you want can be a transformative experience, especially if you've been unhappy with your breasts for a long time. Board-certified plastic surgeon Dr. Jill Hazen will work with you to deliver your desired results on an individual basis. This means having a consultation with her before your procedure. This consultation is incredibly important, as it's where many details of your procedure will be determined and where you will be able to voice any questions or concerns. Dr. Hazen will go over your medical history, your lifestyle, and your desired aesthetic goals.
Together, you and Dr. Hazen will determine al the details of your surgery, including:
The size and shape of your implants
The type of implants you want
Where your implants will be placed
How much your breast augmentation will cost
The type of incisions that will be used, and their placement
Breast augmentation surgical details
Breast augmentation is performed under general anesthesia. First Dr. Hazen will create a small incision in the natural fold of the breast.
The saline or silicone implant is then inserted through the incision before being closed. It will be placed either behind the breast tissue or underneath the chest muscle.
The procedure takes less than two hours, and small incision marks are hidden in the natural fold of the breast.
Candidates for breast augmentation
If you are considering getting a breast augmentation in New Jersey and the surrounding areas, you may be the perfect candidate. Ideal candidates for breast augmentation are those who:
Have fully developed breasts
Are not happy with the size, shape, or unevenness of their breasts
Are not pregnant or breastfeeding
Are non-smokers in overall good health
Have realistic expectations for what a breast augmentation can do
Breast augmentation in Princeton, NJ
at Hazen Plastic Surgery
Not only is breast augmentation one of our top procedures Hazen Plastic Surgery & Medical Spa; Dr. Jill Hazen also loves performing them. Known for her conservative and natural-looking results, Dr. Hazen is the expert you should trust your body to. She will determine the optimal recommendations for you, and she will personalize a treatment plan just for you. Board-certified in plastic surgery, Dr. Hazen has been in practice for 25 years, and has been recognized by Healthy Living as one of the Top Doctors in New Jersey. Her nationally recognized expertise has been featured in many highly respected publications, including the New York Times and New York magazine. There are some results that only surgery can achieve, and if you are considering a breast augmentation in New Jersey, we welcome you to contact us to learn more.