Breast Augmentation - Before & After
What Can Breast Augmentation Do?
Enhance the size or shape of the breasts
Correct breasts that are uneven or unbalanced
Add volume to breasts that have lost fullness
Improve the proportion and balance of the body
Increase a patient's sense of femininity and confidence
Dissatisfaction with breast size or shape can greatly affect a woman's self-confidence and keep her from feeling her most beautiful. Because of this, breast augmentation is one of the most popular plastic surgery procedures available to improve a woman's breast size, shape, and volume. With your breast augmentation in New Jersey with Dr. Jill Hazen, patients can get the breast contour they want in a single, safe procedure.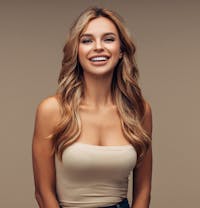 How Does Breast Augmentation Surgery Work?
Breast augmentation is performed under general anesthesia. First Dr. Hazen will create a small incision in the natural fold of the breast.
The saline or silicone implant is then inserted through the incision before being closed. It will be placed either behind the breast tissue or underneath the chest muscle.
The procedure takes less than two hours, and small incision marks are hidden in the natural fold of the breast.
Can a Breast Augmentation Lift My Breasts?
Because breast augmentation surgery aims to increase the size of the breasts, the procedure will not lift your breasts. Breast implants do not raise the breasts, and placing a larger implant won't produce the desired results when a lift is a surgical goal.
Dr. Hazen can pair a breast lift with implants for an enhancement that makes your breasts look fuller and lifted. This combination is often included in Dr. Hazen's mommy makeover.
If you need a more extensive lift, such as if your breasts are exceptionally droopy, you may have a small horizontal scar added to the lower crease under your breasts. However, Dr. Hazen will discuss your options during your initial consultation so you will be fully aware of these considerations before choosing between surgical procedures.
What is the Difference Between Saline and Silicone Implants?
There are two options for breast augmentation: saline implants and silicone gel implants. Each of these has its own particular set of advantages. Both saline implants and silicone gel implants are safe and effective for improving the size and shape of a woman's breasts, and results can be seen almost immediately following surgery.
What are the Pros and Cons of Saline Implants?
Saline implants are filled with harmless salt water, so if they accidentally rupture, the liquid is absorbed by the body without negative consequences. Unlike silicone devices, it is easy to detect if your saline implants have deflated. Another advantage of saline implants is that they can be inserted into the breast capsules unfilled, requiring smaller incisions and thus less scarring. Finally, saline implants are less costly than silicone.
On the downside, saline implants look and feel less authentic than their silicone counterparts. Women who lack sufficient breast tissue will need to choose silicone implants rather than saline. If saline implants rupture, they immediately deflate, which can be unsightly and embarrassing.
What are the Pros and Cons of Silicone Implants?
Silicone implants are frequently chosen for their natural appearance and convincing feel. They maintain their shape even when subjected to vigorous activity and will not deflate or rupture easily. For women with minimal breast tissue to cover the implants, silicone is the most viable option.
The downside of silicone implants is their cost. They are more expensive than saline implants. The incisions for silicone implants must be larger since the implants can only be inserted when they are already filled. Lastly, it can be difficult to detect a rupture with silicone implants, and clients will need to undergo regular diagnostic testing to make sure their implants are still functioning properly.
Who is a Candidate for Breast Augmentation?
If you are considering getting a breast augmentation in New Jersey and the surrounding areas, you may be the perfect candidate. Ideal candidates for breast augmentation are those who:
Have fully developed breasts
Are not happy with the size, shape, or unevenness of their breasts
Are not pregnant or breastfeeding
Are non-smokers in overall good health
Have realistic expectations for what a breast augmentation can do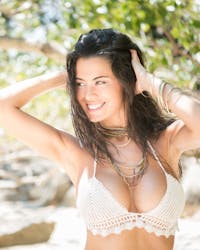 Choosing The Correct Implant
Dr. Hazen provides every patient with the necessary information to ensure the style and size of breast implants they choose will produce results that mirror her expectations. Choosing the correct implant involves considering the following factors:
Bra Sizes vs. Implant Sizes
There are no sizing standards in the bra industry; one manufacturer's 36B is another manufacturer's 34C. Because bra sizing is brand and style specific, it is not a reliable way to choose an implant size. Breast implant size is described in cubic centimeters or CCs, so the higher the number of CCs in an implant, the larger it is.
The Same Size Implants Do Not Produce the Same Results
Having the same size breast implants placed during your breast augmentation as someone else will not provide the same results. Even if you are the same height, weight, and body type, differences in measurements of your chest wall produce a different result when using the same size implant. While your friend of similar proportions looks fabulous with 300 cc breast implants, you may require 200 or 400 ccs to achieve similar results.
Breast Implant Shapes
Implant shapes include round or anatomic. Within each of these categories, you'll choose between low, moderate, or high-profile implants, which refer to the projection of the breast implant.
Round-shaped implants are self-explanatory: they give the breasts a round appearance but may be prone to rippling. Anatomic-shaped implants do not produce any rippling and generally have the most natural results achievable.
Natrelle Implants
Natrelle implants are a soft, smooth, gummy collection of implants, providing three different gummy gel options. The gummier the implant, the more it holds its shape when held in your hand. Made of a special type of silicone gel, Natrelle implants look natural and feel very real when touched.
They are specially designed for a full look, especially at the top of the breasts. Each implant in the Natrelle collection has a different level of cohesivity, or gumminess, allowing you to select the implant that feels the best, the softest, and the most ideal for you when it comes to achieving your aesthetic goals.
Dr. Hazen will help you choose the best option based on your needs, wants unique body structure, and more. There are a number of factors to consider, such as size, shape, and feel.
Where are Natrelle Implants Placed?
Dr. Hazen places the Natrelle implants under the chest muscle. This is also called submuscular placement. The chest muscle provides coverage and support, which gives the implants a more natural-looking result, allowing them to sit higher on the chest.
Dr. Hazen only places implants under the chest muscle because of the superior, more natural results and the fact that there are fewer complications with this approach.
Implant Shapes
Dr. Hazen offers all shapes of implants, ensuring each choice is customized to your body and vision for your breasts. She bases the size and shape of the implant on several factors: original breast size, size of hips, size of waist, size of shoulders, and safety (the breast implants should not be too big to prevent blood flow).
Natrelle implants are round and attractive. These implants have three gel options, each progressively gummier, or holding its shape when touched: responsive, soft touch, and cohesive. Cohesive is the gummiest, giving a very natural and realistic feel to the breasts. Once the gumminess of the gel is decided, which dictates the feel of the implant, the type of look can be decided on. Natrelle offers five profiles, ranging from low to extra-full projection.
Extra full--maximum
This implant provides the largest and fullest look with a very rounded look on top. 19% of women surveyed preferred this look.
Full--enhanced
While it isn't as full as the maximum look, this implant is still large and provides a fuller look with more roundness on top. 61% of women surveyed preferred this look.
Moderate
Moderate implants are smaller, giving a full, attractive look with slight roundness on top. 11% of women surveyed preferred this look.
Low and Low Plus--minimal
These are the smallest options. They enhance the breasts less noticeably, providing slight fullness on top. 9% of women surveyed preferred this look.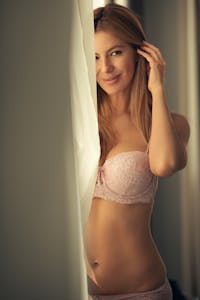 Cost of Breast Augmentation in New Jersey
Many women who have always wanted breast augmentation to hesitate because they wonder about the expense. However, breast augmentation surgery is relatively affordable. The amount many women spend on clothes and expensive bras to flatter, fill or fit their chest adds up over the years. A breast augmentation that erases the need for this could potentially represent savings in the long run. It can be tricky to give an exact price for breast augmentation because the cost varies based on your physique and specific needs.
The procedure complexity itself is a large factor in the cost of breast augmentation. During your consultation with Dr. Hazen, you will be able to talk through the details, potential drawbacks, and positives of your procedure. If you are having revision breast augmentation surgery and also removing outdated or ruptured breast implants, the procedure is more complex, and the cost may be more.
On average, the cost of a breast augmentation is between $4,500 and $7,000.
Capsular Contracture
Capsular contracture is a complication that may result after having breast implant surgery. The body forms tissue around any foreign object that is placed inside it, including breast implants. This tissue is called a capsule, and it is present around all breast implants. If the capsule becomes infected, the tissue begins to thicken and contract, squeezing the breast implants and causing breast pain and firmness.
Grades of Capsular Contracture
Capsular contracture may be present at varying grades of concern. The grading system for capsular contracture is I through IV, starting with a soft, normal capsule and breast, and ending with a hard, painful capsule and breast that appears abnormal. Grades III and IV require surgery.
Grade I: Breast looks and feels soft.
Grade II: Breast is slightly firm but appears natural.
Grade III: Breast is firm, uncomfortable, and appears abnormal.
Grade IV: Breast is hard, painful, and abnormal-looking, including nipple irregularities.
Symptoms of Capsular Contracture
While capsular contracture is not common, when it does happen, the symptoms are unfortunately painful. In addition to pain and discomfort, other symptoms can indicate capsular contracture is present. The following symptoms may help ascertain whether your condition is in fact capsular contracture, requiring surgery:
Unusual firmness or tightness in the breast
Hard, painful, abnormal-feeling breasts
Breast or breasts change in shape or position
You are experiencing a restricted range of motion in the arms and chest
One breast is very round or ball-shaped in an unnatural way
One breast is sitting unusually high on the chest wall
Your breast or nipples are misshapen
How long do breast implants last?
While there is no exact timeline on how long breast implants last, the general consensus is around the range of ten years. While many implants last longer than this without issue, it is important to note that they do not last forever.
Can I breastfeed after a breast augmentation?
Most women are able to breastfeed without issue after breast implants depending on the type of incision used. Let Dr. Hazen know if you plan to breastfeed in the future so she can help ensure there no complications.
Will there be noticeable scars?
Breast augmentation does leave scars, but they are often small and tucked away under the crease of your breast. Dr. Hazen is a highly-skilled surgeon who will work to ensure that the incisions she makes are well-hidden. Scar size will also depend on the type of implant chosen. Because saline implants are filled after being placed in your breast, they require a smaller incision than silicone.
What can I expect immediately after surgery?
After breast augmentation surgery, a gauze dressing is used over the incisions. After this, the breasts will be wrapped with a bra or an elastic band. You may experience some pain and swelling around the area, but this can be treated with the prescribed medication.
When will I be able to return to normal activities?
Most patients are able to be up and about one to two days after surgery and return to work one-week post-op. More strenuous activity should be avoided for the first few weeks to not damage the implant placement or incision.
Learn More About Breast Augmentation in NJ
Breast Augmentation in Princeton, NJ
at Hazen Plastic Surgery
Not only is breast augmentation one of our top procedures Hazen Plastic Surgery & Medical Spa; Dr. Jill Hazen also loves performing them. Known for her conservative and natural-looking results, Dr. Hazen is the expert you should trust your body to. She will determine the optimal recommendations for you, and she will personalize a treatment plan just for you. Board-certified in plastic surgery, Dr. Hazen has been in practice for 25 years and has been recognized by Healthy Living as one of the Top Doctors in New Jersey. Her nationally recognized expertise has been featured in many highly respected publications, including the New York Times and New York magazine. There are some results that only surgery can achieve, and if you are considering a breast augmentation in New Jersey, we welcome you to contact us to learn more.