Breast Augmentation
in Princeton, New Jersey
Dissatisfaction with breast size or shape can greatly affect a woman's self-confidence and keep her from feeling her most beautiful. Because of this, breast augmentation is one of the most popular plastic surgery procedures available to improve a woman's breast size, shape, and volume. With New Jersey breast augmentation surgeon Dr. Jill Hazen, patients can get the breast contour they want in a single, safe procedure.
What can Breast Augmentation do?
Enhance the size or shape of the breasts
Correct breasts that are uneven or unbalanced
Add volume to breasts that have lost fullness
Improve the proportion and balance of the body
Increase a patient's sense of femininity and confidence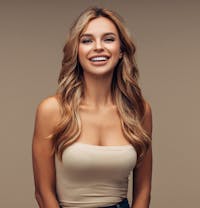 What can I expect
from my consultation?
Getting the breasts you want can be a transformative experience, especially if you've been unhappy with your breasts for a long time. Board-certified plastic surgeon Dr. Jill Hazen will work with you to deliver your desired results on an individual basis. This means having a consultation with her before your procedure. This consultation is incredibly important, as it's where many details of your procedure will be determined and where you will be able to voice any questions or concerns. Dr. Hazen will go over your medical history, your lifestyle, and your desired aesthetic goals.
Together, you and Dr. Hazen will determine al the details of your surgery, including:
The size and shape of your implants
The type of implants you want
Where your implants will be placed
How much your breast augmentation will cost
The type of incisions that will be used, and their placement
How does Breast Augmentation surgery work?
Breast augmentation is performed under general anesthesia. First Dr. Hazen will create a small incision in the natural fold of the breast.
The saline or silicone implant is then inserted through the incision before being closed. It will be placed either behind the breast tissue or underneath the chest muscle.
The procedure takes less than two hours, and small incision marks are hidden in the natural fold of the breast.
Who is a candidate for Breast Augmentation?
If you are considering getting a breast augmentation in New Jersey and the surrounding areas, you may be the perfect candidate. Ideal candidates for breast augmentation are those who:
Have fully developed breasts
Are not happy with the size, shape, or unevenness of their breasts
Are not pregnant or breastfeeding
Are non-smokers in overall good health
Have realistic expectations for what a breast augmentation can do
What is the difference between saline and silicone implants?
A saline implant has a silicone rubber shell that is filled with sterile salt water after it is placed inside the breast. A silicone implant has the same outer shell pre-filled with a silicone gel. Both are considered safe choices, and Dr. Hazen will work with you at your consultation to determine the best choice for you.
How long do breast implants last?
While there is no exact timeline on how long breast implants last, the general consensus is around the range of ten years. While many implants last longer than this without issue, it is important to note that they do not last forever.
Can I breastfeed after a breast augmentation?
Most women are able to breastfeed without issue after breast implants depending on the type of incision used. Let Dr. Hazen know if you plan to breastfeed in the future so she can help ensure there no complications.
Will there be noticeable scars?
Breast augmentation does leave scars, but they are often small and tucked away under the crease of your breast. Dr. Hazen is a highly-skilled surgeon who will work to ensure that the incisions she makes are well-hidden. Scar size will also depend on the type of implant chosen. Because saline implants are filled after being placed in your breast, they require a smaller incision than silicone.
What can I expect immediately after surgery?
After breast augmentation surgery, a gauze dressing is used over the incisions. After this, the breasts will be wrapped with a bra or an elastic band. You may experience some pain and swelling around the area, but this can be treated with the prescribed medication.
When will I be able to return to normal activities?
Most patients are able to be up and about one to two days after surgery and return to work one-week post-op. More strenuous activity should be avoided for the first few weeks to not damage the implant placement or incision.
Breast Augmentation in Princeton, NJ
at Hazen Plastic Surgery
Not only is breast augmentation one of our top procedures Hazen Plastic Surgery & Medical Spa; Dr. Jill Hazen also loves performing them. Known for her conservative and natural-looking results, Dr. Hazen is the expert you should trust your body to. She will determine the optimal recommendations for you, and she will personalize a treatment plan just for you. Board-certified in plastic surgery, Dr. Hazen has been in practice for 25 years and has been recognized by Healthy Living as one of the Top Doctors in New Jersey. Her nationally recognized expertise has been featured in many highly respected publications, including the New York Times and New York magazine. There are some results that only surgery can achieve, and if you are considering a breast augmentation in New Jersey, we welcome you to contact us to learn more.