Breast Augmentation - Before & After
What Can Breast Augmentation Do?
Enhance the size or shape of the breasts
Correct breasts that are uneven or unbalanced
Add volume to breasts that have lost fullness
Improve the proportion and balance of the body
Increase a patient's sense of femininity and confidence
Dissatisfaction with breast size or shape can greatly affect a woman's self-confidence and keep her from feeling her most beautiful. Because of this, breast augmentation is one of the most popular plastic surgery procedures available to improve a woman's breast size, shape, and volume. With your breast augmentation in New Jersey with Dr. Jill Hazen, patients can get the breast contour they want in a single, safe procedure.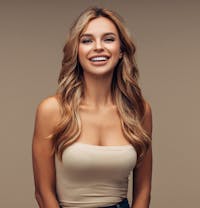 Breast Augmentation Reviews
S.S.
My breast augmentation journey with Dr. Jill Hazen from start to finish was excellent. My results are fantastic and exceeded my expectations.
P.M.
I thought about breast augmentation surgery for the last 12 years but worried that the results would look unnatural. I am absolutely thrilled with my results!!
P.K.
I cannot tell you how happy I am with the results of my [breast aug] surgery! Jill is a very considerate doctor who makes you feel extremely comfortable.
Who is a Candidate for Breast Augmentation?
You may be the perfect candidate if you are considering getting a breast augmentation in New Jersey and the surrounding areas. Ideal candidates for breast augmentation are those who:
Are not happy with the size, shape, or unevenness of their breasts
Are not pregnant or breastfeeding
Are non-smokers in overall good health
Have realistic expectations for what a breast augmentation can do
Choosing The Correct Implant
Dr. Hazen provides every patient with the necessary information to ensure the style and size of breast implants they choose will produce results that mirror her expectations. Choosing the correct implant involves considering the following factors:
Bra Sizes vs. Implant Sizes
There are no sizing standards in the bra industry; one manufacturer's 36B is another manufacturer's 34C. Because bra sizing is brand and style specific, it is not a reliable way to choose an implant size. Breast implant size is described in cubic centimeters or CCs, so the higher the number of CCs in an implant, the larger it is.
The Same Size Do Not Produce the Same Results
Having the same size breast implants placed during your breast augmentation as someone else will not provide the same results. While your friend may look fabulous with one size implant you may require different implants to achieve similar results.
Breast Implant Shapes
Based on your physical examiniation, Dr. Hazen will choose between low, moderate, or high-profile implants, which refer to the projection of the breast implant.
Where are Natrelle Implants Placed?
Dr. Hazen places the Natrelle implants under the chest muscle. This is also called submuscular placement. The chest muscle provides coverage and support, which gives the implants a more natural-looking result, allowing them to sit higher on the chest.
Dr. Hazen only places implants under the chest muscle because of the superior, more natural results and the fact that there are fewer complications with this approach.
Natrelle Implant Shapes
Dr. Hazen offers all shapes of implants, ensuring each choice is customized to your body and vision for your breasts. She bases the size and shape of the implant on several factors: original breast size, size of hips, size of waist, size of shoulders, and safety (the breast implants should not be too big to prevent blood flow).
Full--enhanced
While it isn't as full as the maximum look, this implant is still large and provides a fuller look with more roundness on top. 61% of women surveyed preferred this look.
Moderate
Moderate implants are smaller, giving a full, attractive look with slight roundness on top. 11% of women surveyed preferred this look.
Low and Low Plus--minimal
These are the smallest options. They enhance the breasts less noticeably, providing slight fullness on top. 9% of women surveyed preferred this look.
Cost of Breast Augmentation in New Jersey
Nowadays breast augmentation surgery is more affordable than ever before. The cost of your surgery depends on the implants used, sizers needed and outside surgery center fees. During your consultation all of these costs will be explained to you. The price may increase if paired with additional services.
During your consultation with Dr. Hazen, you will be able to talk through the details of your procedure. If you are having revision breast augmentation surgery, the procedure is more complex, and the cost may be more. On average, the cost of a breast augmentation is between $4,500 and $7,000.
Capsular Contracture
Though you may not have received your initial breast augmentation with Dr. Hazen, she deals with capsular contracture cases across all walks of life. She can revise a breast augmentation to give you the results you are looking for. If you are experiencing any of these symptoms, please see your OBGYN and Dr. Hazen for guidance and consultation. While very uncommon, capsular contracture is a complication that may result after having breast implant surgery. The body forms tissue around any foreign object, including breast implants. This tissue is called a capsule and is present around all breast implants.
Grades of Capsular Contracture
Capsular contracture may be present at varying grades of concern. The grading system for capsular contracture is I through IV, starting with a soft, normal capsule and breast, and ending with a hard, painful capsule and breast that appears abnormal. Grades III and IV require surgery.
Grade I: Breast looks and feels soft.
Grade II: Breast is slightly firm but appears natural.
Grade III: Breast is firm, uncomfortable, and appears abnormal.
Grade IV: Breast is hard, painful, and abnormal-looking, including nipple irregularities.
Symptoms of Capsular Contracture
While capsular contracture is not common, when it does happen, the symptoms are unfortunately painful. In addition to pain and discomfort, other symptoms can indicate capsular contracture is present. The following symptoms may help ascertain whether your condition is in fact capsular contracture, requiring surgery:
Unusual firmness or tightness in the breast
Hard, painful, abnormal-feeling breasts
Breast or breasts change in shape or position
You are experiencing a restricted range of motion in the arms and chest
One breast is very round or ball-shaped in an unnatural way
One breast is sitting unusually high on the chest wall
Your breast or nipples are misshapen
FAQ
How long do breast implants last?
While there is no exact timeline on how long breast implants last, the general consensus is around the range of ten to fifteen years. While many implants last longer than this without issue, it is important to note that they do not last forever.
Can I breastfeed after a breast augmentation?
Most women are able to breastfeed without issue after breast augmentation. Let Dr. Hazen know if you plan to breastfeed in the future.
Will there be noticeable scars?
Breast augmentation does leave scars, but they are often small and tucked away under the crease of your breast. Dr. Hazen is a highly-skilled surgeon who will work to ensure that the incisions she makes are well-hidden.
What can I expect immediately after surgery?
After breast augmentation surgery, a gauze dressing is used over the incisions. After this, the breasts will be wrapped with a bra or an elastic band. You may experience some pain and swelling around the area, but this can be treated with the prescribed medication.
When will I be able to return to normal activities?
Most patients are able to be up and about one to two days after surgery and return to work one-week post-op. More strenuous activity should be avoided for the first few weeks to not damage the implant placement or incision.
How Does Breast Augmentation Surgery Work?
Breast augmentation is performed under general anesthesia. First, Dr. Hazen will create a small incision in the natural fold of the breast. The implant is then inserted through the incision before being closed. It will be placed underneath the chest muscle. The procedure takes less than two hours, and minor incision marks are hidden in the natural fold of the breast.
Can a Breast Augmentation Lift My Breasts?
Because breast augmentation surgery aims to increase the size of the breasts, the procedure will not lift your breasts. Breast implants do not raise the breasts, and placing a larger implant won't produce the desired results when a lift is a surgical goal. Dr. Hazen can pair a breast lift with implants for an enhancement that makes your breasts look fuller and lifted. This combination is often included in Dr. Hazen's mommy makeover.
Breast Augmentation Articles
Breast Augmentation with Dr. Hazen
Hazen Plastic Surgery
Not only is breast augmentation one of our top procedures Hazen Plastic Surgery & Medical Spa; Dr. Jill Hazen also loves performing them. Known for her conservative and natural-looking results, Dr. Hazen is the expert you should trust your body to. She will determine the optimal recommendations for you, and she will personalize a treatment plan just for you. Board-certified in plastic surgery, Dr. Hazen has been in practice for 25 years and has been recognized by Healthy Living as one of the Top Doctors in New Jersey. Her nationally recognized expertise has been featured in many highly respected publications, including the New York Times and New York magazine. There are some results that only surgery can achieve, and if you are considering a breast augmentation in New Jersey, we welcome you to contact us to learn more.