FaceTite in Princeton, New Jersey
If you're interested in improving the signs of age on your face, neck, or both but don't feel ready for a surgical facelift, FaceTite™ may be an excellent option for you. FaceTite is an advanced facial rejuvenation and skin tightening procedure offered by Dr. Jill Hazen that delivers extraordinary results.
What is FaceTite?
FaceTite uses radiofrequency assisted lipolysis (RFAL), a process in which radiofrequency energy is safely emitted to areas of the face and neck to tighten loose, saggy skin and melt unwanted fat.
Built-in safeguards allow Dr. Hazen to treat the deep layers of tissue without harming the surface layer of skin. FaceTite delivers noticeable results with fewer post-operative side effects than surgery. Most patients see results within a single treatment session, with improvements continuing for 6 to 12 weeks.
What areas can
FaceTite treat?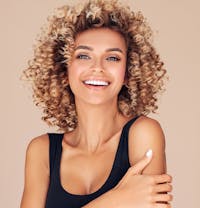 FaceTite treatment details
FaceTite is performed under local anesthesia to keep you comfortable during the treatment. No general anesthesia is needed. The FaceTite probe has been created to treat and tighten the skin without the need for stitches, which means no scars are left. The local anesthesia will be administered with injections to numb the area. Once this has been done, a cannula will make tiny incisions in the skin so that the FaceTite probe can enter.
This probe will move through the underlying tissues, and has been designed with both internal and external components so that it can work under and above the skin at the same time. The FaceTite technology includes heat monitoring to keep you safe during treatment. The procedure takes about one hour. Although only one FaceTite treatment is typically needed, your treatment plan will depend on your specific skin laxity and personal aesthetic goals. During your consultation with Dr. Hazen, you will receive a customized plan, which may include a multi-modality approach.
Candidates for FaceTite
If you're in the Princeton, NJ area and you're interested in FaceTite, you may be the perfect candidate for this advanced procedure. The best candidates for FaceTite are individuals who:
Have mild skin/neck laxity they want to improve
Do not want the downtime and scarring of surgery
Are non-smokers in overall good health
Have realistic expectations for the FaceTite procedure
FaceTite
in Princeton, NJ
at Hazen Plastic Surgery & Medical Spa
As a medical professional who is always progressing forward, Dr. Hazen is one of the first and only plastic surgeons in the Princeton, New Jersey area to use and offer FaceTite. She provides outstanding medical spa services for patients of all ages — from moms to older patients to millennials. She even does services for couples. With a reputation for achieving beautiful, natural-looking results, Dr. Hazen is the ideal choice to perform this advanced procedure. Having a board-certified plastic surgeon to perform any cosmetic procedure will ensure an extra element of study, training, skill, and experience. There are many procedures to choose from these days, and Dr. Hazen will help navigate you through them to determine the right one for your specific needs. She will create a treatment plan just for you to achieve the results you're looking for. To learn more, we welcome you to contact our office today.