Emsculpt in Princeton
If you're looking for a body contouring procedure to take your physique to the next level, Dr. Jill Hazen offers Emsculpt®, a non-surgical treatment that builds muscle, burns fat, and sculpts the body by inducing powerful muscle contractions.
What is Emsculpt?
Emsculpt is a revolutionary body sculpting treatment. It's the first procedure of its kind to use electromagnetic field energy to build muscle and burn fat to achieve a sculpted, shredded physique. Emsculpt can be used to get:
A 6-pack
Sculpted arms
Defined abs
Contoured buttocks
Flatter tummy
Toned legs and calves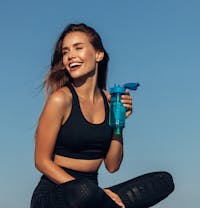 Key benefits of Emsculpt
No downtime or recovery period
Targeted control over fat burning and muscle building
Painless treatment
Convenient and quick treatment time
Noticeable results
Who is Emsculpt intended for?
If you're in the Princeton, NJ area and you're interested in Emsculpt, it may be the perfect procedure for your specific needs. Emsculpt is intended for individuals who are in great shape but want to get rid of that extra layer of body fat or get that last bit of definition in the abdominal or buttock area. It's also an excellent option for candidates whose buttocks are starting to sag and want a little extra lift in that area.
Emsculpt is not for patients who have metal in their bodies or untreated hernias. It is not for patients who are obese, or who do not diet and exercise. The best candidates for Emsculpt:
Want more muscle definition in the abdomen, arms, legs, and/or buttocks
Do not have excess weight over their muscles
Are of average BMI
Do not have metal or electronics inside their body
Recovery
Many patients are sore after an Emsculpt treatment — similar to the feeling you would have after finishing a very intense workout. Besides this soreness, there are no adverse side effects. There is also no downtime after an Emsculpt treatment session. You can resume your normal activities almost immediately.
Results
Most patients notice results after 3 or 4 Emsculpt treatments. These results will progress and improve over the next six months. It's important for patients to be aware that Emsculpt is not meant to substitute for a healthy diet and a regular exercise routine. You will see the best and most lasting results if you continue to eat a balanced diet and work out regularly.
Emsculpt in Princeton, NJ at Hazen Plastic Surgery & Medical Spa
Emsculpt can make the slim, defined physique you've always wanted a reality. If you're in the Princeton, New Jersey area and you'd like to learn more about the technology and who it's best for, we invite you to contact us to schedule a consultation. Emsculpt is one of our top services at Hazen Plastic Surgery & Medical Spa, and it may be perfect for you, or it may not. Either way, Dr. Jill Hazen will determine the optimal recommendations for your personal aesthetic goals, and she will design a treatment plan just for you. Dr. Hazen is a board-certified plastic surgeon who has been in the field of aesthetics for a decade, and has been recognized by Healthy Living as one of the Top Doctors in New Jersey.