Laser Skin Tightening
in Princeton, New Jersey
If you're concerned about loose skin that's caused by your age, pregnancy, or significant weight loss, laser skin tightening may be an excellent option for correcting this problem. Dr. Jill Hazen is happy to offer this procedure, which has proven to be highly effective for cases of mild to moderate skin laxity.
What is laser skin tightening?
Lasers are used to solve a wide range of cosmetic concerns, including facial or body skin that has lost its firm, elastic quality. If you're bothered by loose, sagging skin after pregnancy, weight loss, or because of aging, laser skin tightening can help restore smooth, firm skin — giving you a more youthful appearance. Laser skin tightening is minimally invasive and delivers quick results without the side effects or recovery time required by a surgical procedure.
Advantages of
laser skin tightening
No scarring
Non-invasive
No anesthesia or incisions
Performed in-office
Little to no discomfort during treatment
Minimal downtime
Fast results
Long-lasting results
Low risk of adverse reactions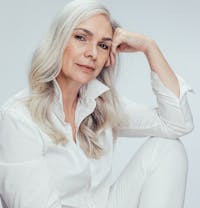 How laser skin tightening works
Laser skin tightening activates your body's wound-healing response, which stimulates the production of brand-new collagen, a protein essential to healthy, elastic skin. During treatment, laser energy is directed at selected areas of loose, wrinkled skin.
Working slowly, the hand-held device passes over the area, delivering pulses of light into the deep layers of the skin without damaging the outer layer of skin. In the weeks and months following a laser skin tightening treatment, the body's collagen supply increases and the targeted skin gradually takes on a smoother and firmer appearance.
Candidates for laser skin tightening
If you're in the Princeton, New Jersey area and you're considering laser skin tightening, it may be the perfect treatment for you. The best candidates for laser skin tightening are those who:
Want to improve their loose skin non-surgically
Are not pregnant or breastfeeding
Are in overall good health
Have realistic expectations for the procedure
Laser skin tightening in Princeton, NJ
at Hazen Plastic Surgery & Medical Spa
With extensive experience in laser procedures, Dr. Jill Hazen performs laser skin tightening safely and skillfully. She has worked in aesthetic procedures for a decade and offers consultations where she provides a head-to-toe recommendation for your specific aesthetic goals, offering everything for the aging face and body. Dr. Hazen has the clinical skills and artistic visualization to achieve beautiful results. She has been recognized by Healthy Living as one of the Top Doctors in New Jersey, and she has been featured in many highly respected publications including the New York Times and New York magazine. Dr. Hazen also received the Patient's Choice Award for 2010. With her, you are in excellent hands. To schedule a consultation for laser skin tightening at her Princeton, NJ office, please contact us today.