Thigh Lift in Princeton, New Jersey
Over time, the smooth, tight skin of the thighs can begin to sag as collagen production in the body slows down. The result is often loose skin that sags, leaving patients with a lack of definition in this area. However, with a thigh lift, patients can counteract this condition and feel confident to show off smoother, tighter, more attractive thighs.
What is
a thigh lift?
A thigh lift removes the excess skin and fat that causes a sagging, unattractive appearance on the legs. During a thigh lift, an incision is made in the natural folds of the skin, allowing Dr. Hazen to contour the thigh for a tighter appearance. In order to get the results you want, Dr. Hazen will meet with you in a consultation to discuss your questions and concerns, and to go over the details of the procedure and recovery.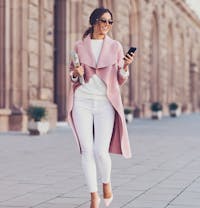 Thigh lift surgical details
A thigh lift is performed under general anesthesia. There are multiple methods for the way a thigh lift can be done. The right thigh lift technique for you will depend on your skin, how severe your condition is, and your specific aesthetic goals.
Recovery
The majority of thigh lift patients need about two weeks to recover, and must wear a compression garment during the recovery phase. During recovery, you will experience some swelling, soreness, and bruising. The details of your home care instructions, what to avoid, and what to expect during recovery will be thoroughly discussed during your consultation.
Results
As your skin begins to heal you will notice the visible results of the thigh lift. You will begin to see the first changes after a few weeks, with final results becoming visible at about six months.
Candidates for thigh lift surgery
If you're considering a thigh lift in New Jersey, you may be an excellent candidate. Ideal candidates for a thigh lift:
Are bothered by the appearance of their thighs
Are at or close to their goal weight
Are non-smokers in overall good health
Have realistic expectations for the surgery
Thigh Lift
in Princeton, NJ
at Hazen Plastic Surgery & Medical Spa
Dr. Jill Hazen's artistic visualization and clinical skills allow her to achieve beautiful, natural-looking results for patients seeking cosmetic surgery. As a board-certified plastic surgeon, Dr. Hazen offers everything for aging of face and body, as well as procedures popular with younger patients. She will personalize a treatment plan just for you, and you will feel well taken care of from the moment you meet with her. Recognized by Healthy Living as one of the Top Doctors in New Jersey, Dr. Hazen has lectured extensively over the years on cosmetic plastic surgery, and she has also been featured in the New York Times and New York magazine. If you're interested in a thigh lift in New Jersey or the surrouding area, we welcome you to contact us for a consultation.