Mommy Makeover
in Princeton, New Jersey
The mommy makeover is an effective combination of plastic surgery procedures that are performed at the same time to improve the areas of the body that change during pregnancy, childbirth, and breastfeeding. Every mommy makeover at Dr. Hazen's NJ practice is tailored to the unique and specific needs of the individual patient so that the very best results possible are achieved.
Why get a mommy makeover?
Maybe you find it difficult to fit into your favorite types of clothing, or you avoid intimacy with your significant other because you feel self-conscious. Perhaps you don't like being photographed because of the way you feel about yourself. These are valid reasons for seeking mommy makeover, and a trusted plastic surgeon like Dr. Hazen can help. You may be seeking improvement for:
Loose abdominal skin
An abdominal "pooch" or protrusion
Separated or weak abdominal muscles
Stubborn deposits of fat left over from pregnancy
Sagging, deflated breasts
Loss of breast shape and fullness
Love handles
Reclaim your pre-baby body with Dr. Hazen
Mommy makeovers make up a large component of Dr. Jill Hazen's practice in New Jersey — and a rewarding one, too! Dr. Hazen enjoys helping women reclaim or improve their pre-baby bodies and seeing how happy and confident it makes them. As a female plastic surgeon with an eye for artistry and exceptional clinical skills, Dr. Hazen is perfectly positioned to help you look and feel your best.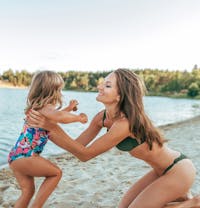 Your personalized
mommy makeover
As you explore your options for a mommy makeover in New Jersey with Dr. Hazen, you can be certain that she will take the time to understand your specific goals by asking you plenty of questions and trying to identify your ideal aesthetic.
She will then tailor a treatment plan around the information you have provided. Your treatment plan blueprint should reflect your cosmetic preferences, personality, and lifestyle.
Mommy makeover surgical details
The exact procedures that are included in your mommy makeover at Dr. Hazen's NJ practice may include the following:
Candidates for mommy makeover
Motherhood brings countless joys, but sagging breasts, a protruding belly, and stubborn fat deposits are not among them. If you're considering cosmetic treatment after having children, you may be an excellent candidate for a mommy makeover in New Jersey and the surrounding areas — even if you're not a mommy. The best candidates for this procedure:
Have undergone pregnancy, breastfeeding, childbirth, or excessive weight loss and have been left with loose skin and/or deflation of the breasts
Have finished having children
Are at or near their ideal body weight
Are non-smokers in overall good health
Have realistic expectations for what a mommy makeover can accomplish
Mommy makeover in Princeton, NJ
at Hazen Plastic Surgery & Medical Spa
There are some results that only surgery can achieve, and one of the most effective procedures that women can undergo is a mommy makeover. As one of the top services at Hazen Plastic Surgery, the mommy makeover can help women regain their confidence and femininity. Dr. Hazen is a board-certified plastic surgeon who is known in the Princeton, NJ area for her beautiful, natural-looking results. She is an experienced professional who will determine the optimal procedures for your specific aesthetic goals, and she will design and personalize a treatment plan just for you. Discover why Dr. Hazen has been Named by Healthy Living as one of the Top Doctors in New Jersey. Contact us today to schedule a consultation!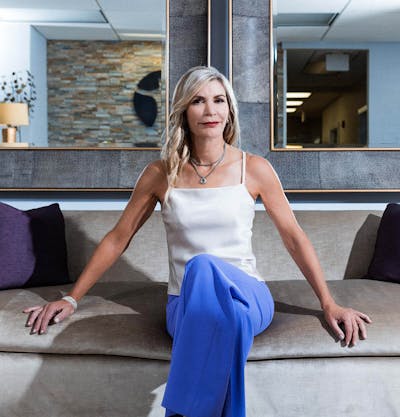 FAQ
Do I have to be a mommy to have a mommy makeover?
No. You do not need to have been pregnant to undergo a mommy makeover. Some women who undergo this procedure do so because of the effects of the aging process or significant weight loss that leaves behind loose skin and deflated breasts.
Is a mommy makeover always done all at once?
Not always. Dr. Hazen will help you decide whether to stage out your breast and abdominal procedures into separate surgeries, allowing you time to recover in between each surgery.
When should I plan my mommy makeover?
There are a few considerations when timing your mommy makeover. First, your body should fully recover from childbirth and you should stop nursing about 3 to 6 months before undergoing a mommy makeover. You should also return to your pre-baby weight or "goal weight" before mommy makeover. This will give you the best surgical result. Furthermore, you should think about having your surgery at a time when you can recruit help for your recovery. During this time, you will not be able to lift heavy objects (including your children). You must have someone to assist you with childcare and household tasks while you focus on your recovery.