PiXel8-RF uses a high-tech device that generates targeted radiofrequency energy to revitalize the tone and texture of your complexion. It achieves this remarkable result by recruiting your body's defenses with a clever illusion: the "micro injuries" from hundreds of tiny pinpricks trigger a natural healing response that boosts levels of collagen and elastin, firming and revitalizing your skin.
What can PiXel8-RF do?
Improves skin tone and texture

Lessens fine lines and wrinkles

Reduces pore size
Decreases the appearance of acne scars
Improves hyperpigmentation, sunspots, and stretch marks
Tightens the skin
Improves minor laxity of the face and neck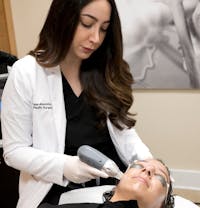 How PiXel8-RF works
PiXel8-RF is a minimally invasive cosmetic procedure that brings together two highly effective treatments: microneedling and bipolar radiofrequency energy that reaches deep into tissue with radiofrequency-induced heat. The small, thin needles that are used to penetrate the skin transmit radiofrequency energy below the skin's surface.
This disrupts loose skin with incursion of heat and rapid-fire micro-punctures. The result? Unwanted folds and lines disappear under firmer, more flexible skin as your complexion reclaims a youthful glow.
PiXel8-RF treatment details
The first step in a PiXel8-RF treatment is the application of a numbing cream, followed by use of the hand-held PiXel8-RF device. As your skin is pricked by the tiny microneedles, cool air is blown across the area to ease any discomfort. The technology also allows the device to be set to various depths for the microneedles, depending on the amount of subdermal disruption and remodeling that is required. Our provider recommends at least three monthly sessions for the absolute best results.

Recovery
PiXel8-RF requires only minimal downtime. Because the skin has experienced a series of micro-punctures, you can expect to experience some mild swelling, along with redness that may persist for a couple of days.
Women may use makeup by the second day, and almost all patients are able to resume normal activities one day after the procedure.
Key benefits of PiXel8-RF
Can also be used on various body parts
Suitable for all skin colors and types
The depth at which the RF energy is applied can be adjusted
Precise targeting of specific dermal layers
Why choose Hazen Plastic Surgery
& Medical Spa?
As with any cosmetic procedure, it is very important to only choose a certified, skilled, experienced specialist. Not only is Morgan a board-certified nurse practitioner, she brings an enhanced level of expertise to every treatment she performs. There are many energy-based and laser-based cosmetic procedures to select from these days, and it can be easy to become overwhelmed by them all.
However, Morgan is an expert who will determine the ideal procedure for you, and she will also design a treatment plan based on your personal goals. Morgan's artistic visualization and clinical skills allow her to achieve beautiful, natural-looking results that you will love. To schedule a consultation, we invite you to contact us.