Dynamic lines form as a result of everyday facial expressions, such as laughing, smiling, frowning, and squinting. They can make you look older than you feel and may convey exhaustion, anger, or sadness - even when you are in the best of spirits.
Luckily, there is an excellent solution. BOTOX is the world's most popular neuromodulator for painlessly and quickly relaxing facial muscles to achieve smoother, more youthful-looking skin. The injectable is ideal for treating the frontalis (or forehead lines), glabellar lines (also known the "11" lines), as well as crow's feet around the eyes.
Before & After
BOTOX New Jersey
What is BOTOX?
BOTOX stands for botulinum toxin, a protein that temporarily blocks the release of the neurotransmitter acetylcholine. By disrupting the nerve signals that tell the brain to contract the tiny facial muscles, BOTOX in New Jersey helps ease dynamic wrinkles, providing you with a more youthful, inviting countenance.
With BOTOX, patients can treat lines for 3 to 6 months with no downtime. BOTOX is the only FDA-approved neuromodulator to treat the crow's feet, glabellar lines, and frontalis lines. BOTOX results are noticeable within 10 to 14 days.
What Are The Benefits Of Botox?
Safe, effective, and FDA-approved
Non-surgical and non-invasive
Helps rewind the clock on the aging process
Reduces wrinkles that make us look upset or tired
Creates a more well-rested, relaxed countenance

Can be combined with dermal fillers for a more dynamic, youthful look

Short treatment time
No discomfort or downtime
Results can last 3-6 months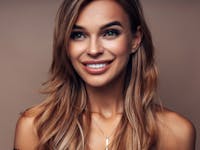 What Areas Can Botox Treat?
While Botox can treat almost any area of the face to smooth wrinkles and lines. Treatment areas include the following:
Forehead lines and wrinkles
The 11s between the eyebrows
Crow's feet
Marionette lines and corners of the mouth
Lipstick lines around the mouth
Neck bands
Sagging brows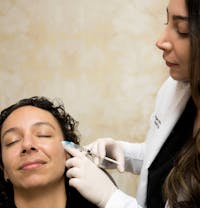 What Are My Injectable Treatment Options?
WRINKLE RELAXERS:
BOTOX, DYSPORT, JEUVEAU and XEOMIN are all versions of neuromodulators used to treat the pesky fine lines and wrinkles in our forehead and around the eyes.
FACIAL FILLERS:
Juvederm Family, RHA Collection, Sculptra and Radiesse facial fillers when paired with neuromodulators are the perfect counterpart for a more youthful, refined face - with less wrinkles, smooth contours, and a defined profile.
LIP FILLERS:
Dermal fillers can be used to subtly increase overall lip volume, augment the natural shape of the lips, and give a rosy hue to the lips.
Who Is An Ideal Candidate For Treatment?
BOTOX is an excellent solution for patients who desire a quick, non-invasive method of reducing lines in the forehead and around the eyes. Ideal candidates are over 18 years of age and are not pregnant or nursing. They should be mentally and physically healthy at the time of their injections and have realistic expectations for what BOTOX can achieve based on their private consultation.
What Happens After My Botox Session?
One of the greatest advantages of BOTOX is that it comes with no downtime or recovery. You can undergo your injections over your lunch break and quickly return to work, school, or shopping. Minor redness, soreness, and swelling may occur, but these side effects are not typically significant enough to keep you from enjoying the rest of your day; they fade within minutes. You should take care to avoid exercising, lying down, and avoid exposure to intense heat for approximately four hours after your injections.
BOTOX FAQ
Will Botox make me look frozen?
No! We pride ourselves on having only the most skilled injectors who will provide subtle, natural results, while still getting rid of those pesky lines. We perform thousands of Botox treatments per year - each treatment is different. Your injector will evaluate your facial anatomy and musculature to determine the appropriate treatment for your individual features.
Is Botox Safe?
BOTOX is the most widely researched cosmetic treatment of its kind and is approved for use in 98 countries. BOTOX has cosmetic applications, as well as medical applications, to treat migraines, muscle spasms, and other conditions. A vast majority of BOTOX patients will experience little-to-no side effects after their treatment.
Why Choose Hazen MedSpa For Botox Injections In New Jersey?
Both Dr. Hazen, board-certified plastic surgeon, and Morgan, board-certified NP, offer BOTOX treatments with an eye for detail and natural-looking results. Both Dr. Hazen and Morgan provide in-depth consultations to understand your cosmetic concerns, curating a customized treatment plan that is a perfect fit for your goals. When it comes to BOTOX injections, it's imperative to work with a trusted team such as Dr. Hazen and Morgan, who will deliver a safe treatment and achieve the rejuvenated, vibrant outcome you seek.