Facelift Surgery
in Princeton, New Jersey
Signs of aging on the face such as wrinkles, lines, and sagging skin are among the most common aesthetic concerns of men and women. Unfortunately, as time goes by, our faces will lose more and more volume and begin to look more sunken, hollow, and wrinkled. A facelift procedure, however, combats this process by removing extra skin and wrinkles from the cheeks, jowls, and lower neck.
Why Get a Facelift?
As part of the natural aging process, the skin begins to slow its production of collagen and elastin. These vital proteins are responsible for keeping the skin smooth and resilient, but as they are depleted, we see a gradual sagging and wrinkling of the skin that leads to an aged appearance. A facelift in New Jersey can restore a natural-looking and youthful appearance to the lower face, neck, and jawline.
What Can a Facelift in New Jersey do?
A facelift has the ability to provide significant and long-lasting results for individuals who want to:
Have a lifted and contoured appearance
Soften fine lines and wrinkles
Have a more defined profile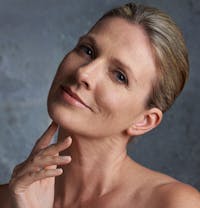 Facelift - Before & After
What to Expect During Your Consultation
Your initial consultation with Dr. Hazen is very important, because this is the time in which she will evaluate your facial structure, aesthetic goals, medical history, and level of severity.
She will provide you with all your options and design a treatment plan for you. This is also your opportunity to voice any questions or concerns you may have about your facelift procedure. During this consultation, Dr. Hazen will also take you step-by-step through the surgical process and what you can expect during recovery.
Facelift Surgical Details
During a facelift, patients are given local anesthesia prior to small incisions being made in the natural creases around the ears. (You will need to arrange to have a ride to and from your surgery.) Since Dr. Hazen discreetly hides incisions in these areas, there are few scars to accompany the transformative results. The structural layers of the skin are tightened and lifted for a firmer and more toned complexion and long-lasting results.
Recovery and Results
Like most surgical procedures, a facelift requires considerable recovery time. You can expect to need 10 to 14 days off of work or normal daily activities. Your bandages will be removed approximately two days following the procedure, with side effects like bruising or swelling dissipating in a week or two. During recovery, only use the most gentle facial products, and keep your head elevated — even during sleep. Working out and other high-intense activities should be avoided for 6 to 8 weeks. Results can be seen in as little as two weeks, with final results appearing about three months following the procedure, and these results can last up to ten years.
Candidates for a Facelift
If you're considering a facelift in New Jersey, it may be the perfect procedure for you. The ideal candidates for this surgery are men and women who:
Are just beginning to see sagging skin of the face and neck
Are in their 40s to 70s
Are non-smokers in overall good health
Have realistic expectations for the procedure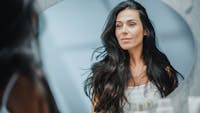 Non-Surgical Alternatives to Facelifts
While some patients are noticing signs of facial aging and want to reverse these changes, they aren't ready to have a surgical procedure. We offer non-surgical injectable alternatives that don't require downtime and can be performed during your lunch break. Dr. Hazen will work with you to understand what your aesthetic goals are and help determine the best injectable treatment to achieve them. Several injectables may be combined for a more dramatic approach (also called a liquid facelift), or you may choose to have one or two injectables to achieve your goals.
Neuromodulators (wrinkle relaxers)
To smooth wrinkles and fine lines, achieving a more youthful, refreshed appearance, we provide Botox, Dysport, Jeuveau. Each of these injectable treatments temporarily but effectively relaxes the muscles that are causing wrinkles to appear. Results last for 3-4 months, achieving smooth, youthful-looking skin.
We offer a wide range of fillers for patients who would like to smooth wrinkles and creases, fill hollow areas, plump the lips, sculpt the jawline, lift the cheekbones, and generally enhance their facial appearance. Our filler options include the Juvederm family, the Restylane family, Sculptra, Revanesse Versa, and Radiesse.
Facelift in Princeton, NJ
at Hazen Plastic Surgery
Well known for her conservative, natural-looking results, board-certified plastic surgeon Dr. Jill Hazen has the artistic visualization and clinical skills to achieve a beautiful outcome for patients seeking a facelift in the Princeton, NJ area. As one of our top services at Hazen Plastic Surgery, the facelift procedure has a very high patient satisfaction rate. Dr. Hazen will help determine the ideal recommendations for your specific needs, and she will tailor-make a treatment plan just for you. Dr. Hazen has an excellent reputation in New Jersey, and has been recognized by Healthy Living as one of the Top Doctors in the state. In addition, she has been featured in the New York Times and New York magazine, and she received the Patient's Choice Award. If you're interested in a facelift in New Jersey from Dr. Hazen, we invite you to contact our office to schedule a consultation.