ThermiVa® is a non-surgical, radiofrequency-based treatment designed for vaginal tightening and labia wellness. Controlled heat is delivered to stimulate new collagen production, which strengthens the localized skin and structural support columns of the area.
How ThermiVa works
ThermiVa is FDA-approved to gently remodel vaginal tissue. Using radiofrequency heat energy, ThermiVa precisely targets the tissue to kickstart the body's natural collagen building process. This improves the vagina both internally and externally for overall wellness.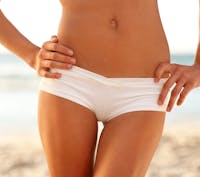 Benefits of ThermiVa
Vaginal tightening: Laxity in the vaginal opening will be reduced for an improved appearance and comfort
External labia tightening: Lessens the embarrassing "camel toe" or visible labia through clothing
Less painful intercourse
Improved orgasm: ThermiVa provides boosted sensitivity and more intense muscular contractions
Increased lubrication: Vaginal dryness is reduced
Reduced incontinence: ThermiVa patients report a decrease in leakage and urge symptoms
Better sex drive: Because of the benefits listed above, patients enjoy more frequent intercourse
What conditions can ThermiVa treat?
Vaginal laxity
Low libido
Painful intercourse
Stress incontinence
Prolapse
Orgasmic dysfunction
Vaginal dryness
ThermiVa at Hazen Plastic Surgery & Medical Spa
Dr. Jill Hazen has worked in aesthetic procedures for a decade, and offers consultations in which she provides a head-to-toe recommendation for your specific aesthetic goals. She has been recognized by Healthy Living as one of the Top Doctors in New Jersey.
In addition, she has been featured in many highly respected publications including the New York Times and New York magazine. Dr. Hazen also received the Patient's Choice Award for 2010. With Dr. Hazen and her outstanding staff, you are in excellent hands. She will completely explain the entire process of the procedure, and she will answer any questions or concerns you may have. If you're interested in what ThermiVa can do for you, we invite you to contact us today for a consultation.