Facial rejuvenation treatments at Hazen Medical Spa are ideal for patients looking to achieve a radiant appearance. In between other skin rejuvenation services, facials at Hazen Medical Spa can provide the perfect boost to keep the skin looking bright and healthy without a significant time commitment or any recovery time.
Facial treatments rehydrate the skin, providing crucial nutrients to retain a radiant glow as part of a comprehensive skin care routine. Patients at Hazen Medical Spa can customize treatments to suit their personal skin care needs.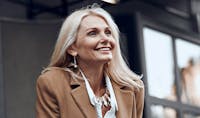 FAQ
How do facials work?
Facials work by hydrating and exfoliating the skin, infusing it with nutrients that keep the skin looking bright and radiant in between more advanced treatments.
How long do treatments take?
Many facials in Princeton, New Jersey can be completed on a lunch break, in less than thirty minutes.
Which facial is best for me?
Our staff of skin care experts will advise each patient on which facial is best for their unique skin care needs.
Facials at Hazen Medical Spa include:
Hazen Signature Facial
A luxurious medical facial which involves gentle cleansing, exfoliation personalized to your individual needs, extractions, massage, a relaxing mask treatment selected especially for you, followed by sunscreen application to protect your skin from the elements.
Acne Facial
A purifying and detoxifying facial. Includes deep cleansing, exfoliation, steam, extractions, blue LED light and mask followed by protective sunscreen.
ZO Stimulator Facial
Known as the "Red Carpet" or lunch time peel, this facial combines deep cleansing with a gentle peel and mask. Go out for an event or right back to work after receiving this extremely gentle peel; there is no downtime. Stimulates cellular turnover to improve texture, tone and clarity.
HydraFacial
Hydrafacial® deeply cleanses, extracts and hydrates the skin utilizing super serums filled with antioxidants, peptides and hyaluronic acid.
Clarifying Hydrafacial
This protocol includes extended extractions, sulfur mask and Blue LED light for oily or congested skin.
Hazen Platinum Hydrafacial
Begins the detoxification process with lymphatic therapy; continues with the Deluxe HydraFacial to deeply cleanse, extract and hydrate the skin while infusing growth factors. (This treatment includes LED light.)