Laser Hair Removal
in Princeton, New Jersey
Excess body hair can be a struggle for both men and women. Traditional hair removal methods like waxing and shaving don't provide permanent results, and they can also be expensive, painful, and time-consuming. This is why Dr. Jill Hazen offers laser hair removal at her Princeton, NJ aesthetic center.
What is laser hair removal?
Laser hair removal is an alternative to shaving, tweezing, and/or waxing. This highly popular procedure uses laser energy to target hair follicles so that they can no longer grow hair.
In the weeks following treatment, the hairs will begin to fall out and will not be able to grow back. This leaves patients with permanent hair reduction in areas such as the face, arms, back, chest, bikini area, and legs.
Key benefits of
laser hair removal
Convenient and saves time
Quick treatments with minimal discomfort
Smooth skin without having to shave or wax
As much as 95% permanent hair reduction
Precise and safe lasers
No more razor burn, ingrown hairs, or irritation
Enhanced confidence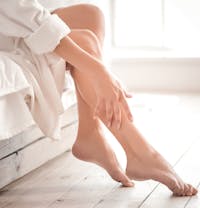 What areas can be treated?
Chest
Back
Upper lip and face
Underarms
Arms
Legs
Bikini area
Laser hair removal treatment details
On the day of your appointment, make sure you're not wearing any deodorant, creams, lotions, or cosmetics on treatment area(s). If there have been any changes in your health or the medications you take, let us know prior to your appointment. Some medications, such as acne medications and antibiotics, can make you more sensitive to the hair removal laser. During the laser hair removal session, a handheld device with a laser will be run across the target area(s).
Most patients do not consider laser hair removal painful; a common comparison is the snapping of a rubber band on the skin. The laser emits pulses of light while a cooling piece on the tip of the device — along with a cooling gel — helps protect your skin and reduce the risk of side effects. The amount of time it takes to complete a treatment session depends on the size of the area. Although laser hair removal treatments are safe and effective for reducing body hair, the laser can only destroy active hair follicles. In order to provide optimal hair removal results, a series of treatments is required.
Candidates for laser hair removal
If you're in the Princeton, New Jersey area and you're considering laser hair removal, it may be the perfect procedure for you. The best candidates for laser hair removal are women and men in overall good health who want to decrease or remove unwanted body hair growth.
Laser hair removal in Princeton, NJ
at Hazen Plastic Surgery & Medical Spa
Dr. Jill Hazen provides outstanding medical spa services for patients of all ages — from moms to older patients to millennials. She even does services for couples. Although laser hair removal is a very safe procedure that does not require general anesthesia, having a board-certified plastic surgeon to perform any cosmetic procedure will ensure an extra element of study, training, skill, and experience. Dr. Hazen has extensive experience with lasers, and she will achieve the results you want. She has been in practice 25 years and has been performing aesthetic procedures for a decade. To finally get rid of unwanted body hair and enjoy smooth, soft skin, we welcome you to contact our office today to schedule your consultation.