If you're looking for a 100% non-invasive way to tighten your loose facial and neck skin, Dr. Jill Hazen offers Ultherapy® treatments at her aesthetic center in Princeton, NJ. Ultherapy works deep below the surface of the skin, using focused ultrasound energy to lift, tone, and tighten loose skin around the face, décolletage, brow, cheeks, and neck to counter signs of aging.
Key benefits of Ultherapy
Totally non-invasive
Minimal discomfort during treatment
No anesthesia
Quick and convenient treatment time
No incisions or scars
Zero downtime
Natural-looking results
May only take a single treatment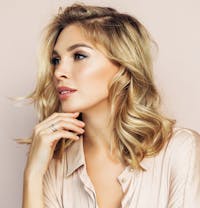 What is Ultherapy?
Our faces can tell many stories, and while wrinkles might say "experience", droopiness can say "exhausted". Ultherapy allows you to turn back the clock and restore a face that's in sync with the vitality you feel inside. Ultherapy utilizes gentle, focused ultrasound energy to lift, tighten, and tone loose skin.
This is the only energy-based aesthetic procedure that has been FDA-approved for non-invasive lifting. Ultherapy treatments can result in dramatic skin rejuvenation without the downtime of a surgical facelift, providing a safe and effective alternative for those not quite ready for a surgical procedure.
Ultherapy - Before & After
Ultherapy Reviews
N.A.
I had Ultherapy done by Dr. Hazen. She was absolutely thorough in her explanation of the procedure and what to expect. I recommend Dr. Hazen 1000%.
K.C.
I was very nervous about Ultherapy however Dr Hazen was very patient and provided adequate pain management which resulted in a positive experience.
R.B.
Thanks Dr. Hazen and Ultherapy! The experience is posh and pleasant, with the staff surrounding you at all times to make sure all your needs are met.
How Does Ultherapy Work?
Ultherapy uses the body's own regenerative response to gently and gradually restore memory to the skin and underlying tissue support. As with other ultrasound procedures, a smooth applicator that is placed on your skin projects an image onto a screen. This image allows Dr. Hazen to plan where the energy will be directed.
This same applicator is then used to deliver low levels of focused heat to just the right depth below the skin to achieve a positive effect — all the while leaving the surface of your skin undisturbed. Your skin's response to the energy is to stimulate the growth of new collagen. A gradual tightening and firming occur, resulting in a natural lift of the skin over time.
Recovery and Results 
Ultherapy requires no incisions and no downtime. Patients can resume their regular activities after an Ultherapy session. The skin may appear a bit flushed immediately afterward, but any redness should disappear within an hour or so. Occasionally patients may experience slight swelling, tingling, or tenderness to the touch, but these are mild and temporary. With just one Ultherapy treatment, the regenerative process is initiated; however, the full effect will build gradually over the course of 2 to 3 months. Some patients may benefit from more than one treatment.
Visible effects include a lifting and toning of sagging skin. In the FDA clinical trial, for instance, 9 out of 10 patients had a noticeable, significant lift of the brow line. This resulted in reduced skin laxity on the eyelid and a more open, youthful look to the eyes overall. Patients reported firmer, better-fitting skin in other areas of the face and neck as well. There is also an invisible result from the procedure with the creation of new collagen, which can help to slow down the rate of skin aging.
How Much Does Ultherapy Cost?
Ultherapy ranges in price from a few hundred to several thousand dollars depending on the size and scope of the area to be treated and how much skin tightening is desired. The non-invasive FDA-approved treatment can be used on both the neck and face to tighten skin at a cost substantially less than that of a facelift. Patients desiring treatment in a smaller area of the face or neck can expect to pay around $750, with costs increasing as larger areas or the full face and neck are treated.
Ultherapy
in Princeton, NJ
at Hazen Plastic Surgery & Medical Spa
Board-certified plastic surgeon Dr. Jill Hazen was the first person in New Jersey to buy an Ultherapy system. She is a top Ultherapy provider in the area, performing more Ultherapy procedures than anyone else. Because of this, it is one of our top services at Hazen Plastic Surgery & Medical Spa. Dr. Hazen is known as "the natural one" in the area due to her beautiful, subtle results. Although there are many different cosmetic treatments to choose from these days, Dr. Hazen will determine the optimal recommendations for you and will design a treatment plan to achieve the results you want. In practice for 25 years and working in aesthetics for a decade, Dr. Hazen helps patients of all ages get the appearance they've been looking for. If you're seeking Ultherapy treatments in the Princeton, NJ area, we invite you to contact our office today.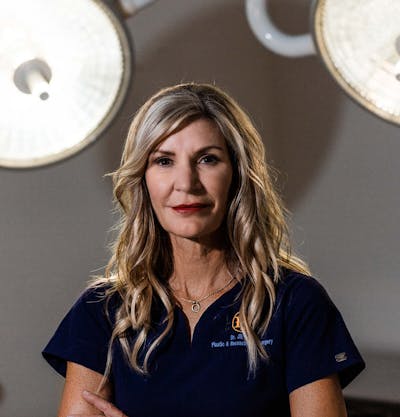 Am I A Candidate for Ultherapy?
If you're in the Princeton, NJ area and you're interested in Ultherapy, it may be the perfect treatment for your needs. A good candidate for Ultherapy is someone with skin that has "relaxed" to the point of looking (and often feeling) less firm. A lowered brow line or sagging skin on the eyelids, for instance, is often the first sign of "maturing" skin. At Hazen Plastic Surgery & Medical Spa, Dr. Hazen's goal is to empower you to look and feel your best at any age. She integrates her expertise in cosmetic surgery and state-of-the-art technology. During your consultation with her, she will determine if Ultherapy is the right procedure for you.
FAQ
How is Ultherapy different than other cosmetic procedures?
Ultherapy is the only non-surgical skin rejuvenation procedure that uses ultrasound to see below the surface of the skin and to specifically target the deep foundational layer of tissue that doctors address in surgery. The ability to treat not just the skin but its underlying support very precisely — from the inside out — helps to ensure both safe and satisfying results, with no downtime.
Is Ultherapy safe?
Ultrasound energy has a proven track record, with over 50 years of use in the field of medicine. Clinical trials have demonstrated the safety of this latest application. As with any medical procedure, there are general safety considerations which Dr. Hazen will review with you.
Where does Dr. Hazen perform Ultherapy?
Dr. Hazen performs Ultherapy treatments at her office in Princeton, New Jersey.