Laser Tattoo Removal
in Princeton, New Jersey
Many of the millions of Americans who have tattoos on their body seek an effective and safe tattoo removal procedure. This can be for a wide range of reasons, but those looking for this particular service often face the same problem: tattoo removal procedures can be very painful, or are only partially effective. Until now. With PicoSure™ laser tattoo removal, patients can safely and effectively remove unwanted tattoos without harming their skin.
What is PicoSure
tattoo removal?
PicoSure laser tattoo removal uses an advanced laser to break up the ink in a tattoo. By focusing laser energy into the ink particles under the skin, the laser is able to remove the unwanted ink and allow the body to eliminate any color, leaving patients with clear skin after the appropriate amount of treatments have been done.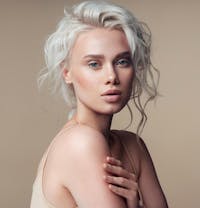 How PicoSure laser tattoo removal works
PicoSure emits a pressure wave of energy in picoseconds (a trillionth of a second). The technology was developed especially for treating pigmented areas of the skin.
The pressure wave is emitted in short, powerful pulse bursts without damaging the surrounding skin, providing better results and less treatment time than previous laser tattoo removal methods.
Laser tattoo removal in Princeton, NJ
at Hazen Plastic Surgery & Medical Spa
If you're in the Princeton, NJ area and you want to remove an old tattoo with laser tattoo removal, Dr. Hazen is the ideal surgeon for you. She has extensive experience with lasers, and performs each procedure with gentle and skilled hands. She is a board-certified plastic surgeon who has made a name for herself as being one of the top doctors in New Jersey. During your consultation, Dr. Hazen will let you know how many laser tattoo treatments you will need, and she and her professional, friendly staff will be available to answer any questions you may have. To meet with Dr. Hazen, please contact us to schedule your consultation today.
Recovery and results
Side effects may include some redness or swelling, although these often disappear in a few hours. Many patients see optimal results through a series of treatments over 3 to 6 months. Results may vary depending on the age, size, and color of your tattoo, and can be discussed during a consultation prior to treatment.
PicoSure tattoo removal achieves results in half the time of traditional tattoo removal technology. Despite the effectiveness of advanced PicoSure laser tattoo removal, some larger or fuller tattoos may require a series of treatments to achieve full removal results. Patients can discuss desired results with Dr. Jill Hazen during a consultation prior to the procedure.