Eyelid Surgery
in Princeton, New Jersey
Bright, vibrant eyes are crucial to keeping a youthful appearance as the years go by. In order to improve signs of aging like drooping or dropped eyelids, Dr. Jill Hazen provides eyelid surgery at her aesthetic practice in Princeton, NJ.
What eyelid surgery
can accomplish
Remove sagging skin on the upper eyelid
Reduce eye puffiness
Improve under-eye bags
Correct drooping lower eyelids that show white under the iris
Improve vision impairment from excess skin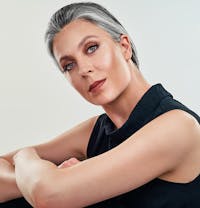 What is eyelid surgery?
Eyelid surgery (also called "blepharoplasty" or an "eyelid lift") rejuvenates aging eyelids by removing excess or sagging skin to improve their appearance, as well as the patient's vision. Eyelid surgery is also effective at reducing under-eye bags and puffiness that can cause a weary or exhausted appearance.
Blepharoplasty - Before & After
Upper and lower eyelid surgery
There are two types of blepharoplasty: upper eyelid surgery and lower eyelid surgery. These procedures can be performed by themselves, or together for enhanced results. They can also have other procedures added, such as a brow lift, facelift, or dermal fillers.
Upper eyelid surgery is performed to specifically address sagging skin that is either hiding the beauty of the eyes, impairing vision, or both. Puffy skin may also be reduced. Lower eyelid surgery is performed to specifically address under-eye bags, "pulled-down" eyelids, and pockets of fat under the eyes. During your consultation with Dr. Hazen, she will discuss whether upper eyelid surgery, lower eyelid surgery, or both will be best for your aesthetic goals.
Candidates for Blepharoplasty
If you're considering upper eyelid surgery (blepharoplasty) in New Jersey, lower eyelid surgery, or both, you may be an excellent candidate. Ideal candidates for blepharoplasty are those who:
Want a procedure that will allow their eyes to be "seen" again
Have excess skin, puffiness, or drooping of the eyelids
Want to remove excess eyelid skin that is hindering vision
Do not have any pre-existing eye conditions
Do not have thyroid problems
Are non-smokers in overall good health
Have realistic expectations for the procedure
Blepharoplasty in New Jersey
at Hazen Plastic Surgery
If you're interested in eyelid surgery in the Princeton, New Jersey area, Dr. Jill Hazen is the ideal surgeon for you. As a board-certified plastic surgeon, she is highly experienced in performing both upper and lower eyelid surgery. Blepharoplasty is one of our top services at Hazen Plastic Surgery & Medical Spa, and Dr. Hazen has a reputation for delivering very natural-looking results. She will determine the optimal recommendations for you, and she will customize a personal treatment plan just for you. With Dr. Hazen, you are in excellent hands. She has been recognized by Healthy Living as one of the Top Doctors for blepharoplasty in New Jersey, and she has lectured extensively over the years on cosmetic plastic surgery. Dr. Hazen's artistic visualization and clinical skills allow her to achieve beautiful, results. To meet with Dr. Hazen, please contact us.
FAQ
Is eyelid surgery covered by health insurance?
Eyelid surgery in New Jersey is not usually covered by medical or vision insurance. However, it's always wise to check, because if your procedure is determined to be medically necessary, it may be covered. If you're interested in eyelid surgery, contact your insurance company to find out if this is a procedure they cover and what you or we may need to provide in order to accommodate the proceedings.