If you're bothered by your cellulite, loose skin, scars, or stretch marks, Dr. Jill Hazen offers ZWave treatments, a procedure that utilizes powerful radial pulses to deliver energy through the skin to improve skin firmness, skin elasticity, and collagen regeneration.
What is ZWave?
ZWave therapy uses high-energy shockwaves to reduce cellulite, tighten the skin, improve the appearance of stretch marks, and lessen scarring by triggering the skin's natural elasticity and collagen production. The treatment also breaks down fat cells.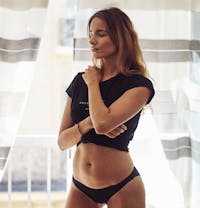 Strengthen connective tissues
Stimulate blood circulation
Help with lymphatic system functionality
Kickstart new collagen production
Most common areas treated
Abdomen
Buttocks
Upper arms
Legs
ZWave treatments at Hazen Plastic Surgery & Medical Spa
Recognized by Healthy Living as one of the Top Doctors in New Jersey, board-certified plastic surgeon Dr. Jill Hazen is constantly learning new technologies and techniques.
This allows her to move forward to offer her patients the most advanced and effective treatments. ZWave is one such vetted procedure that Dr. Hazen has approved and is happy to offer. We are happy to serve patients of all ages, from moms to millennials to older patients. If you're interested in fighting cellulite, scarring, and stretch marks with ZWave treatments, we invite you to contact us today to schedule a consultation.