Published on April 19, 2012 by Hazen Plastic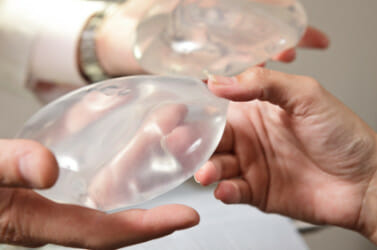 Breast augmentation remains one of the most popular plastic surgery procedures in the world because it not only enhances the size of the breasts but also their shape. As with all surgeries, one's decision to undergo breast augmentation is a personal one that is based on the needs of an individual. At Hazen Plastic Surgery P.A., breast augmentation will always provide the most natural and beautiful results that will only enhance your body's inherent shape.
For breast augmentation, we increase the size of the breasts by using implants. We offer both saline and silicone gel implants. Both types are FDA-approved and have their own unique traits. During a consultation, Dr. Hazen can determine which one is right for you.
Saline and silicone breast implants differ in the material used to fill them. Saline implants contain a saltwater solution, which is a naturally occurring fluid in the body. The silicone types are made of a cohesive gel substance. Both implants are encased in a silicone rubber shell. The risk of potential complications, healing period, and sizing options are nearly identical among saline and silicone gel implants; however, there are some differences:
Silicone gel implants typically have a more natural feel as compared to the firmer quality of saline implants.
Saline implants are filled after they are inserted (and maybe adjusted after surgery, depending on the type of saline implant), while silicone implants come pre-filled in a fixed amount.
Saline implants entail a smaller incision, so there is less likelihood of scarring versus silicone gel implants, which require a larger incision.
The results of breast augmentation, with the use of either saline or silicone gel implants, naturally enhance the size and shape of your breasts and may therefore improve your self-confidence and overall appearance. Dr. Hazen welcomes you to her practice and looks forward to answering all of your questions regarding this body contouring procedure. Please contact us if you would like to schedule a consultation. If you would like to see what the results of a breast augmentation look like on many body types, please take a look at our gallery.