If you're looking for a non-surgical procedure to improve your wrinkles, pigmentation, or skin texture, INFINI™ by Lutronic® treats all of these, along with a variety of other skin conditions that are often associated with age.
What is INFINI skin?
INFINI skin is an advanced, minimally invasive method of skin renewal that effectively reduces acne scarring, softens wrinkles, and improves skin laxity using microneedles to deliver high intensity focused radiofrequency energy to volumize and tighten tissue. INFINI effectively minimizes the risk of post-inflammatory hyperpigmentation in darker skin types, and can be safely used on patients with melasma.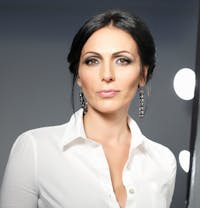 Fine lines and wrinkles
Sagging skin
Acne scars
Other types of scars
Skin tone and skin texture
Dull, lackluster skin
How INFINI skin works
Radiofrequency energy is delivered via insulated gold-coated microneedles to create precise and controllable fractionated thermal coagulation points within specific dermal layers of the skin. Adjustable depth control allows for customized treatments, as well as correction of very delicate areas.
The three-dimensional delivery of energy maximizes skin volumization and contraction for optimal wrinkle reduction and skin tightening. The microneedles are insulated where they come into contact with the skin's surface so that there is no heat damage to the skin's surface, and therefore little to no downtime.
Key benefits
Results visible after 1 to 2 weeks
Minimal downtime
Results continue to improve over 6 months
About Hazen Plastic
Surgery & Medical Spa
Recognized by Healthy Living as one of the Top Doctors in New Jersey, Dr. Jill Hazen is a board-certified plastic surgeon who is known for her natural-looking results.
When it comes to cosmetic procedures of any kind, working with a plastic surgeon is one of the most important choices to make, as a certified plastic surgeon knows the underlying structure of the face and how everything balances together. Dr. Hazen's artistic visualization and clinical skills allow her to achieve the absolute best results for your specific aesthetic needs. To schedule a consultation, please contact us.