If you want to slim down your mid-section and you're looking for an alternative to liposuction or more invasive procedures, Dr. Jill Hazen offers Vanquish™, a radiofrequency-based body contouring procedure that is effective, painless, and requires no downtime.
Key benefits of Vanquish
Non-invasive
Minimal discomfort
Little to no side effects
No downtime
Effective after 3 to 4 sessions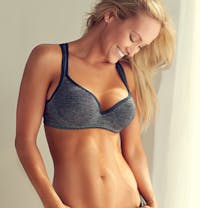 How Vanquish works
Vanquish has been FDA-approved for deep tissue heating. Radiofrequency heat goes through the skin to target the fat cell, heating the fat to 120 degrees.
The fat is permanently destroyed because the actual fat cells are heated — not just the fat inside of them. Vanquish is different than many other fat removal treatments because not only does it get rid of fat; it also contours the area for enhanced results.
Who is a good candidate for Vanquish?
Those who make the best candidates for Vanquish are those who:
Want to get rid of 1 to 5 inches in their problem areas
Are not having success with diet and exercise in the area(s)
Want to look and feel better about their problem area(s)
Do not want to undergo liposuction or a more invasive procedure
Want minimal downtime